CIRCLE INN: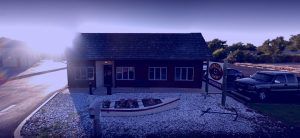 Mary Nelson, co-owner of Water's Edge Cafe in Crisfield, recently purchased Circle Inn Restaurant. Circle Inn was owned and operated by Anita Tyler Roughton for 32 years. It is interesting to see two business women in Crisfield making an exchange, something rare here. Circle Inn will continue with basically the same menu, but will be open for breakfast and lunch only – 6:00 a.m. to 3:00 p.m.
NEW HAIR SALON:
Crisfield has a new hair salon called Evolutions Too. It is located across from the Fire Department and is open part-time.
TIDEWATER EXPRESS:
The cargo and freight company, Tidewater Express, moved back to Crisfield earlier this year.
TANGIER SOUND PROPERTY AT PUPPY HOLE:
The property previously developed by Ryan Homes and held by Wells Fargo sold at auction on May 24 for $261,000 plus 10% buyer's premium (= $287,000) to a buyer from Georgia. The property, which includes over 7 acres on Tangier Sound, 37 boat slips and pier, a swimming pool, and pool house, has been at a standstill for over ten years. Development of this property will be a major boost for Crisfield.