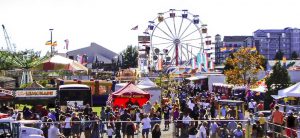 4th SATURDAY BAY STROLLS:
Sponsored by the Somerset County Arts Council, WBYC radio, and the City of Crisfield, this new initiative is providing live music by local artists and great food at the City Dock the 4th Saturday of each month through October. The first event was May 27, and visitors and locals alike enjoyed the opportunity to gather, shop, and eat along West Main Street up to the City Dock.
WELLINGTON BEACH:
Wellington Beach is ready for the season and looking good due to new sand, benches, and flags. It is one of Crisfield's assets that both local people and visitors enjoy. The beach is being taken care of by a new organization called the Crisfield Community Beach to Bay Conservation, a 501(c)(3) non-profit. They are also taking care of the VFW cemetery and part of the cemetery in town among other things.
CRAB DERBY COOKING CONTEST RECIPE BOOK:
The Crisfield Chamber of Commerce has published a new cookbook of fifty years of winning recipes from the National Hard Crab Derby contests. Entitled From Crab Pot to Table Top, the cookbook contains recipes for nearly 400 dishes and includes appetizers, soups, salads, crab cakes, and main dishes, plus more. You can stop by the Chamber office at 906 West Main Street for a copy or call the office at 410-968-2500 for details or to purchase. At a price of $15, this will make a nice gift as well as a personal copy for home use.
CRAB & CRUISE:
The Crab Place (http://www.crabplace.com) has expanded its Crab & Cruise events this year to 18 events, with one almost every weekend through September. Promoting these events to their 80,000 member email customer base, 85,000+ fans on Facebook and 83,000 followers, Crab Place continues to sell out 90% of its events. Each event brings 250 people to Crisfield, totaling over 4500 visitors for the season. The Crisfield events have themes such as Motown, Rhythm & Blues, Classic Rock and Roll, and Oldies Rock and Roll. In October, they will also hold their annual Crab & Cruise in Tampa, plus they are exploring having Crab & Cruise events in other cities in the future. Whether these events are in Crisfield or in other locations, they are an opportunity to promote Crisfield and attract tourists here.
TAWES MUSEUM:
The Heritage Foundation hired a new part-time Executive Director, Claire Otterbein, as well as a Salisbury University student from Crisfield, Casey Goldsborough, for the summer as an assistant. Both started in the past week. The Heritage Foundation has been without an Executive Director for two years, and this will enable the Foundation to make giant leaps forward to add additional programs and bring people to the museum and to Crisfield.
TOURIST FEEDBACK:
Community leader Phil Riggin shared a conversation he had with two tourists from Oklahoma whom he met at the City Dock one day recently. They shared that they intended to spend one day in Crisfield, but were so enchanted that they stayed five. They visited both Smith Island and Tangier and also ate in local restaurants and visited local shops. They found everyone friendly and enjoyed the food and the service. The goal of the Five Year Action Plan for Crisfield is to bring more people to town and have them have an enjoyable experience as these tourists did.