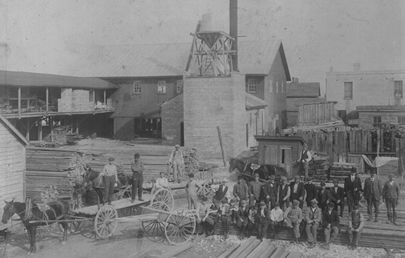 Crisfield people find pleasure as well as their livelihood on the water. The town's history is probably not any different than many other ports on the Chesapeake, but to the residents of this once busy sea port, it is the birthplace of a nation and what we call home.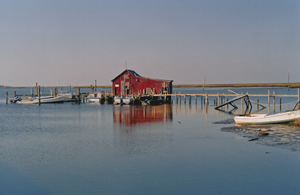 Crisfield is a historic waterfront town nearly surrounded by the waters of the Chesapeake Bay off of Tangier Sound. It is famous for its fishing, sailing, and boating. And it is known for its amazing seafood – especially blue crabs and oysters. Crisfield is called the Crab Capital of the World because you can't find them tasting better anywhere else. Find out some other interesting trivia about our town.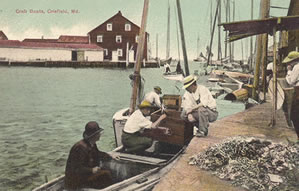 The first name by which the town was ever designated was Annemessex Neck. The origin of this name is obvious because of the fact that a tribe of Native Americans called the Annemessexs lived and hunted on the river near Crisfield, which also bears their name. The local tribe was a branch of the Pocomokes which were seated to the east of here on the Great Pocomoke River. All of the Indians in what is Somerset County today answered to the Great Chief of the Nanticokes seated at a place known as Chicone on the Nanticoke River.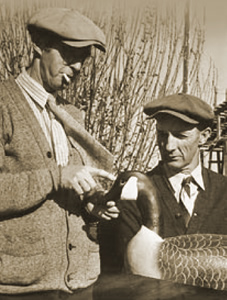 Notable Crisfield citizens have been politicians, military leaders, artists, and entrepreneurs.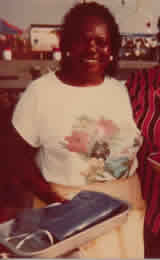 Hey, all you crab lovers! Here's a question for you: Who is the World Champion Crabmeat Picker of all time? None other than Crisfield's own, "Hurricane" Hazel Cropper.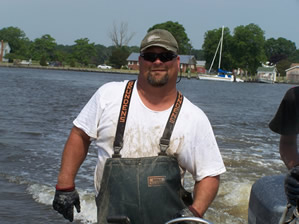 What's it like to make a living going out in a boat to catch crabs on a daily basis? For waterman Moose Labo, it's a labor of love. He started with his Dad when he was six or seven years old. He couldn't do much at the time, but by the time he was seventeen or eighteen, he was running his own boat and has been crabbing for over twenty years since then.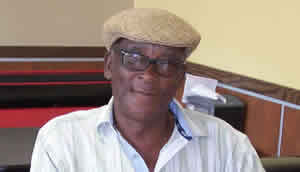 Meeting William Sledge is like meeting the epitome of "old school." William has made more than a living. He has built a *happy life* upon the "old school" values and beliefs that have worked for him for over 50 years: devoting himself to his wife and family; working as an oyster shucker as well as other jobs to keep cash flowing; and managing money well by saving up for the things his family needed or wanted.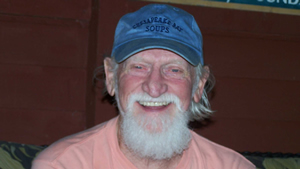 Crisfield is proud to be home to author, Whitey Schmidt, who moved here from Washington, DC in the mid-90s, and has written several of his cookbooks here. Crisfield and Whitey couldn't be a better fit. The town is known as "The Crab Capital of the World," and Whitey is known as a Blue Crab guru, writer, and chef extraordinaire.