Crisfield is proud to be home to author, Whitey Schmidt, now deceased, who moved here from Washington, DC in the mid-90s, and has written several of his cookbooks here. Crisfield and Whitey couldn't be a better fit. The town is known as "The Crab Capital of the World," and Whitey is known as a Blue Crab guru, writer, and chef extraordinaire.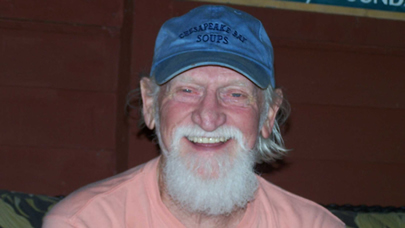 It all started when he was a young boy in DC, one of thirteen children. On weekends, his father would go out with his buddies and come back with fish, shrimp, or crabs for the family. Whitey was intrigued by where his father had gone to find these culinary delights. It became for Whitey a lifelong passion to seek out the crab houses nestled along the Chesapeake Bay on Maryland's Eastern Shore and to discover cooking methods and recipes for crabs and other seafood that were exceptional. As a young man, for fifteen years, he traveled every weekend and dined at a different crab house each time, looking for the best crab restaurants and collecting menus along the way. In addition, while distributing auto parts in Virginia, DC, and Maryland for his family's business, he would stop at nearby crab houses collecting more menus and business cards. He visited over 275 in all, particularly those that offer steamed crabs. He also worked for a time as head chef in a seafood restaurant as a young man, learning his craft and fulfilling his passion for seafood.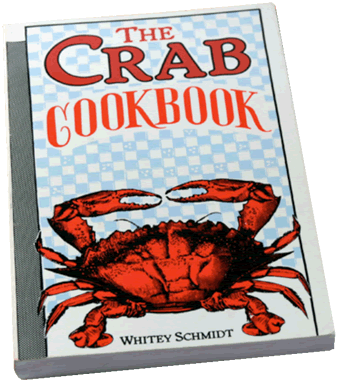 Over time, friends, knowing his obsession, would call for recommendations based on Whitey's travels and discoveries, which he kept in his own "black book." This led to his first book, published in 1985, called The Official Crab Eaters' Guide. He sold 5000 copies without advertising, quit his job in the family business, and made a living writing ever since. His second book was published two years later entitled The Chesapeake Bay Waterview Dining Guide. His third and most popular book was published in 1990, The Crab Cookbook. As a result, Whitey starred in the Maryland Public Television award-winning series Eating Crabs Chesapeake Style, which featured his crab cookbook. Also, his book Flavor of the Chesapeake Bay with renowned photographer Marion Warren is still a best seller. In addition to cookbooks on blue crabs, soups and oysters, his current work in progress is a compilation of favorite softshell crab recipes, which will be his twelfth book. Along with recipes of the Chesapeake Bay's unique cuisine, his books contain tips and humorous anecdotes from Whitey's travels and experience. Whitey has tested and tasted every recipe in every book in his test kitchen (known as his "crab lab"), so you know that you're getting the most delicious seafood recipes possible.
For Whitey, writing and Maryland seafood became a part of him. He lives it, dreams it, and goes to bed thinking about his next book. When asked if he has a favorite book or a favorite recipe, he smiled and said, "Mom Schmidt couldn't pick a favorite among her children and neither can I pick among my cookbooks or among my recipes." He said he's enjoyed every recipe many times over, and "I love them all." Then he added, "When you find something you love, it's not work. For me, researching and writing my cookbooks – sometimes around the clock – is such joy!"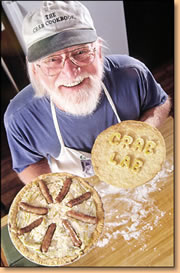 And Crisfield has become home to Whitey Schmidt. He loves the people and the place. About Crisfielders he says, "Crisfield people are clannish in a nice kind of way. If you stay to yourself, they will leave you alone and respect your privacy. If you come among them, they will welcome you like a newborn babe." As for Crisfield, we are delighted that he has "come among us," and that he shares our love for all things *crab* here in Crisfield – "The Crab Capital of the World."